Do It The Notion Way

Do you find it challenging to keep track of all your photography ideas, gear, trips, and shots? Are you constantly searching for a better way to stay organized and motivated as a photographer? If so, Mosh Planner Pro - Notion version is the solution you've been looking for. It's a comprehensive tool that streamlines your workflow and helps you capture all the important details of your photography journey.


With its sleek and intuitive design, Mosh Planner Pro - Notion version simplifies your life and elevates your photography game. Think of it as your trusty sidekick, always by your side, ready to capture all your brilliant ideas, important details, and memorable moments. No matter where your photography adventures take you, you'll never miss a beat with Mosh Planner Pro - Notion version by your side.


Picture this: you're on a trip to a new destination, scouting for the perfect location to capture a breathtaking sunset. You pull out your Mosh Planner Pro - Notion version and jot down all the important details about the location, the weather conditions, and the gear you need. You also add a few notes about the story you want to tell with your photos. Suddenly, the sun dips below the horizon and the sky lights up with a fiery orange and pink glow. You're in the moment, completely absorbed by the beauty of the scene. You press the shutter release button and capture the shot of a lifetime.

Later, back at your hotel room, you open up your Mosh Planner Pro - Notion version and relive the moment by writing down your thoughts, emotions, and experiences. You add the photo to your collection of Shot & Moments and feel a sense of pride and satisfaction.


Mosh Planner Pro - Notion version is more than just a planner, it's a storyteller, a motivator, and a source of inspiration. It's the perfect tool for photographers who want to elevate their game, stay organized, and bring their visions to life. So what are you waiting for? Get your hands on Mosh Planner Pro - Notion version today and start capturing the world one shot at a time!

All The Good Stuff But Online And More!

Using the Mosh Planner Pro - Notion version in combination with the physical Mosh Planner Pro can provide several benefits:



Easy Access: The Notion version allows you to access your Mosh Planner from anywhere, on any device, as long as you have an internet connection. You can quickly update your plans, notes, and photos on the go, without having to carry the physical planner with you.
Real-time Collaboration: If you're working with a team, the Notion version allows you to share your Mosh Planner and collaborate in real-time. This can be especially useful for photographers who work on projects together and need to coordinate their plans and shots.
Enhanced Flexibility: The Notion version offers greater flexibility than the physical planner, as it allows you to customize the layout, format, and appearance of your pages to suit your needs. You can also easily add, edit, and delete content as your needs change.
Backup and Security: The Notion version provides a secure and easily accessible backup of your Mosh Planner, so you don't have to worry about losing your important information in case of damage or theft.
Better Search and Organization: The Notion version provides better search and organization capabilities than the physical planner, allowing you to quickly find what you're looking for and keep your information organized and easy to access.



By using the Mosh Planner Pro - Notion version in combination with the physical Mosh Planner Pro, you can enjoy the benefits of a traditional planner, combined with the power and convenience of digital productivity tools.
Photo Ideas/Concepts
How many ideas, of different locations or specific images you had in mind througout the years? If you're anything like me, the answer is "too many".
Start writing those down in your new Mosh Planner and get busy.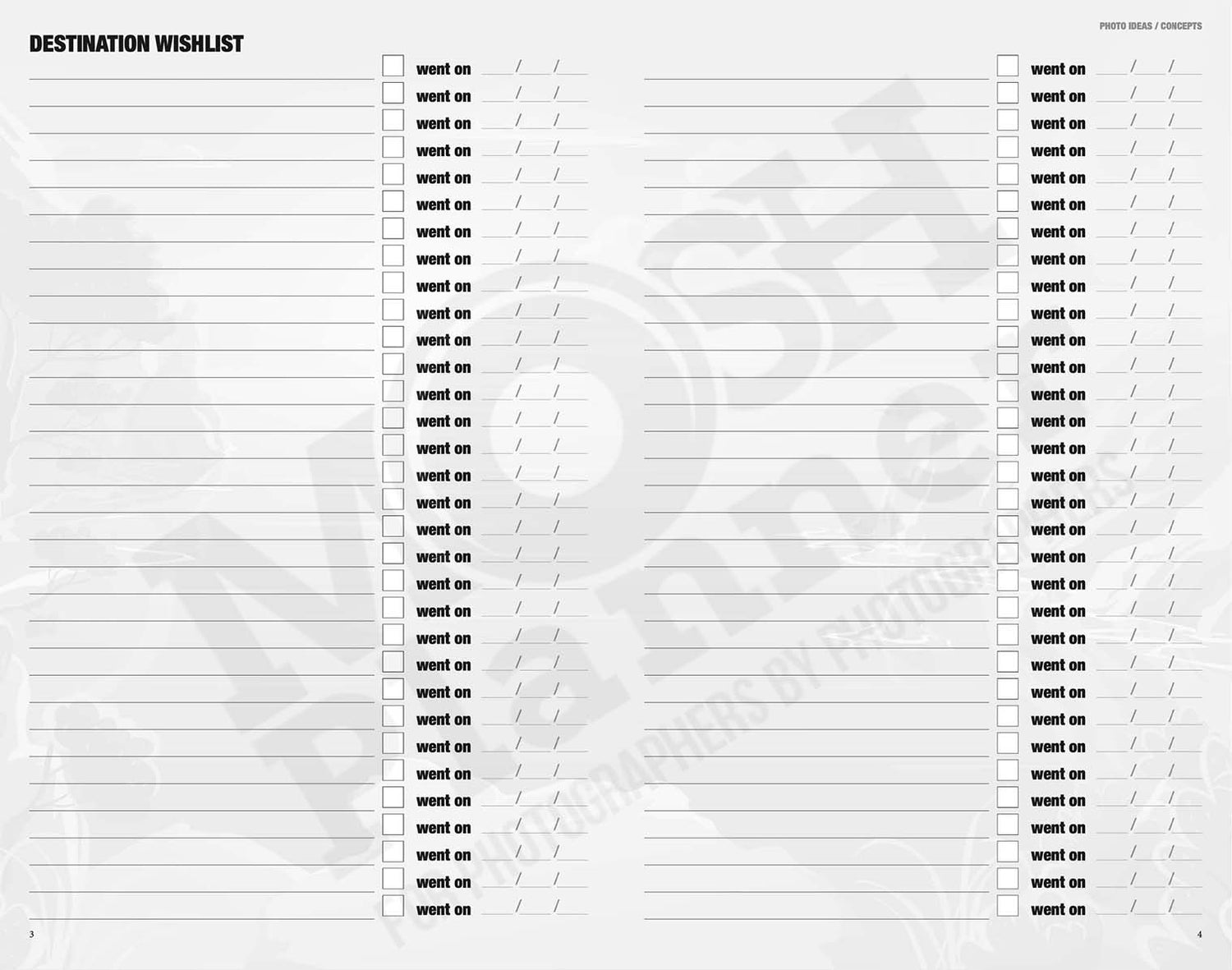 Destination Wishlist
We all have different kinds of bucket lists and they are all filled with so much goodness. We wish and hope for so many things, even us photographers have our own bucket list type. We call them destinations. In these pages you must write all the destinations you wish to visit and photograph or photograph at. I said you must, because it's more likely to happen if it's written down and you see it all the time.
Helpful Kits
It's good to have a checklist (which you'll find on a different page) but it's great to get inspired by ready made ones. Look at these kits and decide if you need to add anything to your checklists. Maybe it will just remind you of unrelated items you totally forgot about.
Adventures Overview
We decided to skip the monthly overview because this is a trip-oriented planner. Because we know you might go on as little as zero trips and as much as 1,235,214, we figured you'd like some freedom. I'm a big believer in freedom.
Boring Important Details (BID)
The most important things are often the most looked over things. Not because we mean to give them less attention, because we think nothing will actually happen.  In our case, as photographers, these things are the gear we carry.
So, in case something does happen, if you lose your gear or it gets stolen, you'll have all the details written down for an insurance claim.
Daily Planner
Yeah that's right. I skipped the weekly planner completely. You'll find that these daily planner pages are much more effective than any others you've seen so far. What's the secret? Aside from having useful photography tips and space to write in, you'll see a whopping 24 hour day schedule!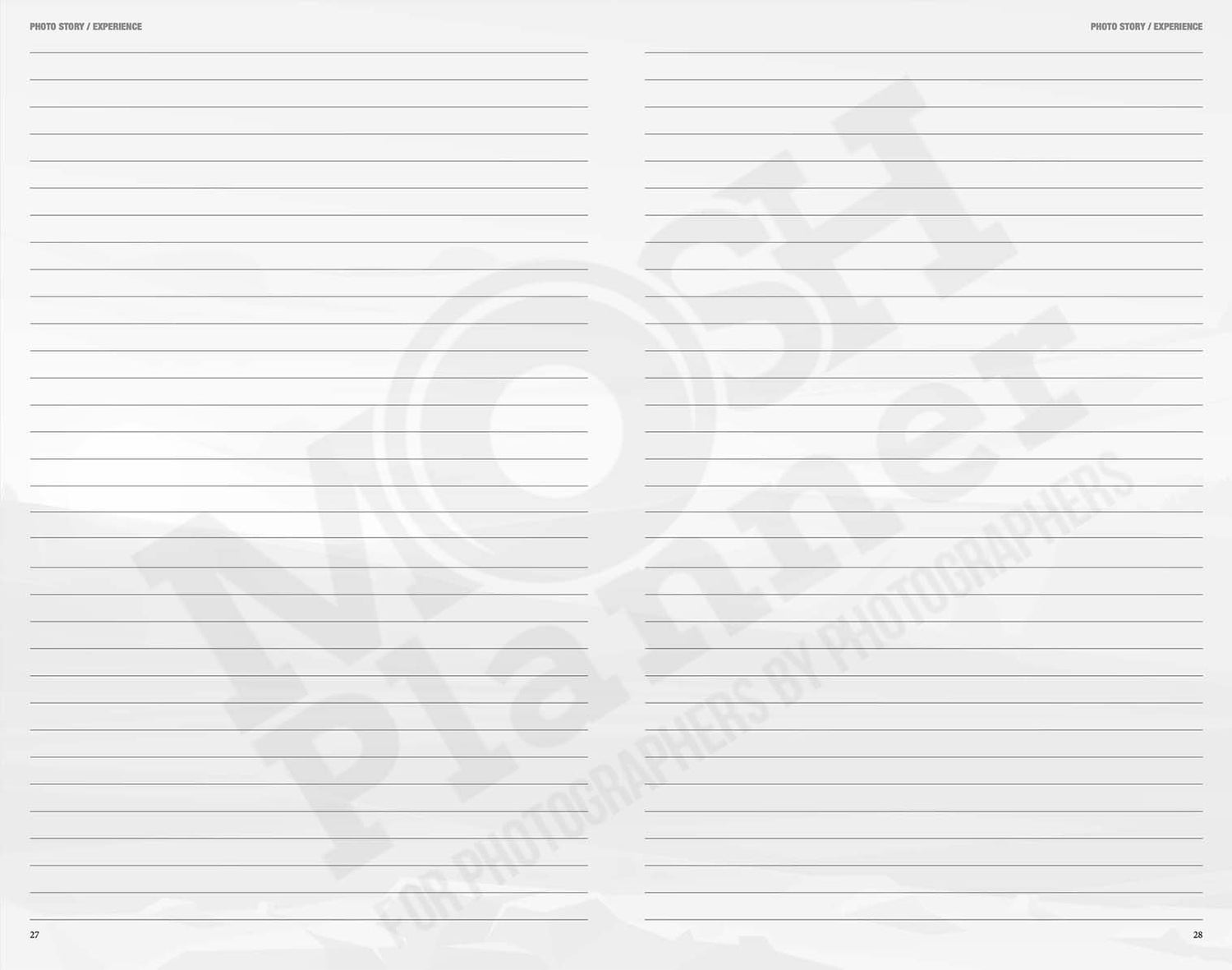 Photo Story
Every photo has a story to tell. It's important to know how to make it more interesting, to learn how the shot was taken and what lead to it. People want to know what you felt. Make them drool. Make them feel like they are standing next to you as that lightning strikes a tree three feet away from you.
Shots & Moments

We don't always plan our shots and how they'll come out. Many times it's due to nature and the fact that it's not as predictable as we want it to be (Predicting the weather doesn't always help), so when it's not up to the weather to decide what our photos will look like it's up to us, and if we plan correctly we'll get the pictures we want the world to see. We are artists after all, don't forget that.

As photographers, as absurd as it may sound, we don't get to enjoy those once in a lifetime moments we experience. We are there, in the moment, be we're too focused on capturing it for everyone else to imagine how that moment felt to us.

I urge you to be in the moment while capturing your next images. I urge you to take MOSH with you. Describe what you hear and smell, what emotions erupt, what's the weather like, what you're learning… And then, press the shutter release button.

OK. OK. You should probably press the button before, so you won't lose that shot.

Trip Planner

These are the two most important pages you'll fill out before going on your trips and when planning your next adventures. The pages will help you know your destination, its weather conditions, sun times, moon phases and a list of things you should take with you, from gear and clothing to food and important items.

Fellow Photographers

Yeah, sure, you have smartphones. You have no idea (maybe you do) how powerful a written contact can be. You know, in case your phone is dead, lost, stolen, dead, broken… dead.

There are a few more pages but you should just buy Mosh Planner and find out what they are. Or go to our website.

Location Scouting

Location scouting is very important for achieving a superior landscape portfolio. Some photographers go to a single location dozens of times just to get the perfect sunset/sunrise conditions.

MOSH Planner can help you record all the important details when you go out scouting or when you're just out and about and stumble upon a location that inspires you.

Travel / Contacts / Contests

Oh that's right, you have a smartphone. That's OK, I don't care, in a chance that at least one person holding this planner in their hands, don't have one. Or maybe they lost it on the way to New Zealand.

What other reasons can I give you? Let's see: your battery died, you forgot your security code, you forgot to actually put down the information in your phone, your travel notes suddenly got deleted for no damn reason, your girlfriend is playing an exciting game on it and if you'll take it from her your trip will be over just like her game, you're on an important phone call and you don't have headphones and you can't put the call on speaker, you dropped your phone in the airport's toilet and even though it's water proof you have to admit it stinks, your phone decides to update itself out of the blue and you can't use it until it's done… Damn! Our phones suck! So… Travel / Contacts. Thank me later.

Contests… What can I tell you about contests? Some of them are simply a scam, there's no argument there but some of them are so awesome because you can win high-end equipment and thousands of dollars, but the truth (to some of us) is that we just want to see our photos published in magazines and on huge ass billboards. Some contests will make that happen.

Through these pages you'll be able to track what photo contests you enter and how they progress. If you ever get scammed on one of them, let it go and invest your energies on more positive actions. Yeah, I'm talking from experience. That's the great thing about having a planner for photographers made by a photographer – I CAN RELATE!